Overview
SucculentGuide.com is the sister site to CactiGuide.com. As many cactus growers also grow species from various other succulent plant families, this site was a natural extension of the pre-existing cactus site. While CactiGuide.com has been many years in the making, SucculentGuide.com has a great advantage in that much of the programming work could be shared between the two sites. Some changes were necessary to incorporate the multiple plant families as opposed to just a single family. As a result, the genera on the succulent site are listed under headings of each family name. Clicking the family name brings the user to a page describing that specific family, while clicking a genus will bring the user to the list of species for that genus in both sites.

For reasons of both scope and time, SucculentGuide.com is a joint effort between Daiv Freeman, John Balcom, and John Chmielewski. Biographies of each are included below. This is not to neglect the many contributors who have supplied an abundance of images of plants in both habitat and in cultivation. These invaluable associates can be found on this page. This site is a never-ending task that will only become more useful in time, but never complete. And so it is our hope that this site will soon become an indispensable tool for succulent plant growers worldwide, we make no claims to be a sufficient independent resource. To further that point, an extensive list of alternate resources are included on the Sources page and we encourage you to look into these additional resources in conjunction with this site.

Both sites provide a tremendous amount of information on each subject, however, they also share a common discussion forum where the live interaction with other enthusiasts provides invaluable support which cannot be duplicated in a one-way communication of a static web page or a book. Visitors are encouraged to join in on the discussion and new people are always welcome no matter what level of experience they have.

Daiv Freeman

Daiv is a lifetime gardner and overall plant enthusiast with a particular interest in cacti. Born and raised in central Minnesota, Daiv has lived for 15 years in Southern California where he met many other cactus and succulent enthusiasts and expanded beyond cold-hardy species. He now lives back in central Minnesota with his wife and three kids and continues to grow plants in a greenhouse. Daiv is also the owner/operator of Exotic Plant Books, specializing in books on "specialty" plant families.

Daiv is responsible for the overall programming of SucculentGuide.com, adding species records, and writing various content throughout.

John Balcom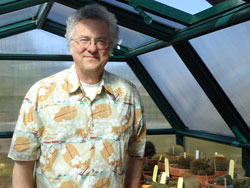 John Balcom is a teacher and a translator who spends much of his free time looking after a still growing collection of cacti and succulents. He is particularly fond of the genus Rebutia (including Sulcorebutia and Weingartia) but enjoys growing Conophytum, Gibbaeum, and other rock-like mesembs, as well. John joined the CactiGuide.com forum in 2008. He and his wife, Yingtsih, make their home in Monterey, California.

In addition to adding many species to the database along with plant images, John also writes many of the plant descriptions found on SucculentGuide.com.

John Chmielewski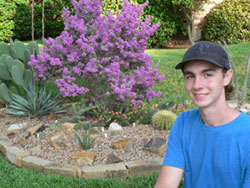 John Chmielewski is a student from the Fort Worth Texas area. He takes particular interest in the native cactus and succulents of his state. He grows hardy species in an outdoor bed and keeps other plants in his greenhouse. John has an interest in nature in general, with Cold-Hardy palms and reptiles being other favorite subjects of his.

John joined the work on SucculentGuide.com primarily to assist in adding images. Thanks to the many volunteers, there is a constant backlog of species images that are waiting to be added to the database.

We hope you enjoy using SucculentGuide.com as much as we enjoy putting it together! If you have any questions or comments, please send us an e-mail.